Tonya Evinger made headlines in 2015 for refusing to kiss the UFC's ass. Now she's making headlines for celebrating her latest title defense win by planting a kiss on unsuspecting interviewer Laura Sanko–and it was all captured live on UFC Fight Pass.
Evinger, the Invicta women's bantamweight champion, defended her title with a dominant performance over Colleen Schneider at Invicta FC 17. The unanimous decision saw Evinger score 50-44, 49-45, 50-44 on the judges' scorecards.
In recent times, we've seen Evinger puke into a bucket after several of her fights, so the fact that she did so after her win wasn't so much of a surprise. But when the openly gay champion decided to kiss interviewer Laura Sanko on the lips during the in-cage post-fight interview, there was a whole other level of shock value.
Evinger told the audience that she would like to win the award for MMA Momemt of 2016, then smooched Sanko, who was visibly shocked but couldn't back away quickly enough.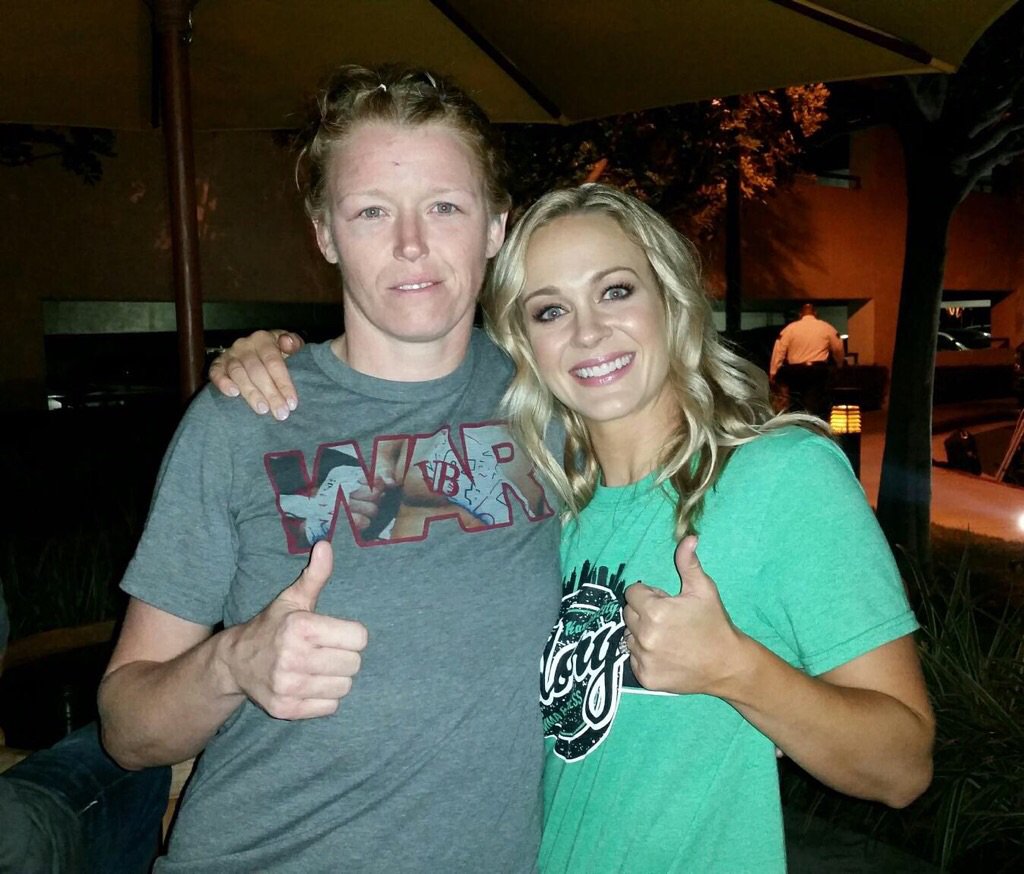 Sanko laughed it off and posed for a picture with Evinger afterwards to show there were no hard feelings.
However, this may be seen as a controversial moment (whether that is right or wrong) as this lesbian kiss was aired live on UFC Fight Pass. Let's be honest though, most of the fans loved to see Evinger's spontaneity after her win.
Controversy aside, the bigger picture here might be that poor Sanko received a kiss on the mouth from someone who'd just gone five rounds in the cage before puking into a bucket–not so romantic.
Evinger's actions might not be a surprise who remember 10 years ago when she told her opponent Gina Carano that she was happy to knock her out or kiss her.
This aside, Evinger's victory takes her to 19-5 with an impressive nine-fight winning streak. The UFC needs to get her in the Octagon and now is as good a time as any while she is in the news and people know her name.
After this fight, Joe Rogan should be fairly safe, but you never know.